Vintage Brooks Brothers shirts. Amazing! we love the classics..... here's a rare Brooks Brothers shirt. Zephyr Oxford. It's a lightweight cotton shirt, otherwise just like all the other vintage 60s BB shirts. so we'll call this a ZOCBD.
this is a classic 60s mens vintage Oxford cotton buttondown shirt.
It's a Zephyr cotton, a lightweight cotton cloth. The shirt has a pocket, and long sleeves. It also has gussets on the hem sides. Neat!
This blue stripe oxford, OCBD, it's a blend of 40% poly, 60% cotton, a crisp oxford cloth. The shirt has a pocket, and long sleeves. The hem is curved. 6 button front. Made in USA.
The fabric is an oxford cloth, Brooksweave, in a blend, rather than all cotton.
Pretty dress, in a shiny slick Silk print in big blooming roses with a draped neckline. Excellent size too: It fits like , a modern size 8 (about), A medium .
bust - 40" , waist - 28" ,hips - 42",back waist - 16.5",Length - 42"
clicky for all the pretty cool summer styles at funkomavintage.......
and some classic fantastic summer Pool Party dresses!!
Both of these are 60s classics, by Alice. A name you can trust for your summer Tiki party wear.
60s Asian patchwork, this Pake Mu caftan has geometric and pastoral designs on a simple shape. By Alice Polynesian Fashions, it's a tropical Hawaiian classic, made of glossy cotton sateen. *clicky*
This lovely Alice dress has big bright blossoms in the classic Hawaiian dress style of a fitted front and gathered back, the Watteau pleat. *clicky*
It's a tiki garden with hot and bright colors with shades of blue.
By Alice, an Hawaiian dress maker, this is a great size, and it has an adjustable waist tab with elastic and hooks and eyes to pull the front waist in, while allowing the back gathers to release.
Shorts, cut-offs, are a gotta have 'em for summer fun, eh??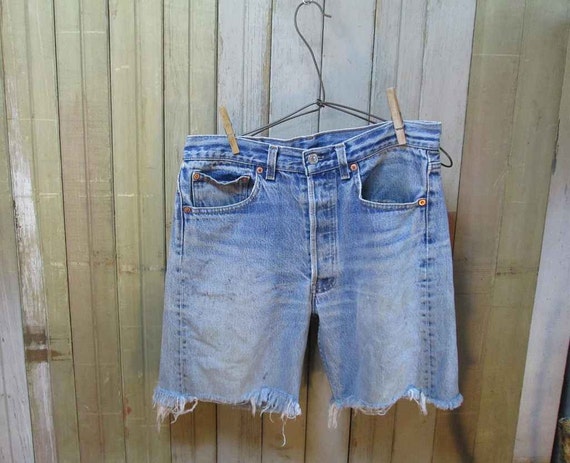 clicky here for shorts shorts shorts!