Of course you should choose a vintage wedding dress...
because it's better to use what is already here, better to use what comes from a local source, better to think about the disposal problem...I know...but you are a GrownUp now!
vintage and handmade wedding ideas here at etsy
you know me...I like marriage so much...I did it twice.
I think everyone should have the right to marry...
the old joke: Everyone should have the opportunity to be miserable like the rest of us !!
(ha ha)
But seriously, marriage takes work and a pretty wedding takes some pretty stuff.........
My 2 weddings were all diy...1st one made my dress (duh) of natural crinkle gauze (duh) from India and I embroidered pretty flowers all over it, and made a matching shirt for the groom (duh)
The second wedding was an elopement affair because I was under too much pressure to invite/feed/entertain/mollify about a 100 people and I was not up to it. (everybody will tell you what to do...few will actually help)
Traveling to San Francisco to be married at City Hall in 1997, my second wedding dress was a lacy antique silk slip that was mostly falling apart..
I made that into the mini skirt, then for the blouse I used a 70s faux Victorian blouse that I remodeled ....
I wore some new/edwardian style shoes....and paired it up with my favorite leather jacket. I was hot! Mark wore a thrift store linen suit, with a bright blue shirt and a vintage pink/blue tie and 2 tone Saddle shoes.
Vintage sunglasses of course.
The pics are packed away.....after my big move I'll copy them and post them for you all to laugh at.
So....a Vintage Wedding Dress?
I always buy pretty white dresses for my shop and I adore vintage lingerie for the bride. A bride and groom should indulge themselves (sensibly) for their wedding and honeymoon, because soon enough, it won't be about just you 2. There is real life.
Right now I have these on etsy:


a loverly Emma Domb from the early 60s...it is tailored in the front and girly on the back! I love love love the deep back and the bows.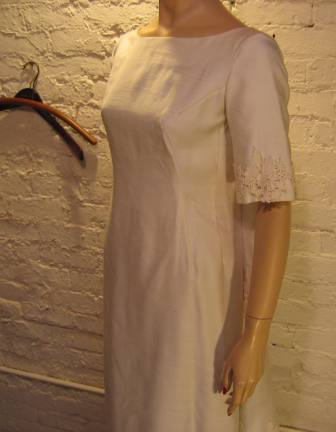 Going more Bohemian?

70s crinkle gauze with sheer lace. This is ethereal and fairy.




Like the tailored look? Classic ivory wool boucle set by Tina Hagen.